Just in time for the Oktoberfest (and Bits & Pretzels) we created an Oktoberfest guide for you with local insider tips and years of Oktoberfest experience around the main event to make the most out of your stay.
Here comes the "24 Hour Oktoberfest Tour", which is designed to be repeated over the coming days, or as long as you can handle it.
10:00 – White Sausage: "Der Pschorr"
Starting in Der Pschorr in the historical center of Munich, located at the Viktualienmarkt, with traditional bavarian food to get properly prepared for what awaits you later in the day.
White Sausage (bavarian: Weißwuascht – just in case you want to impress someone) is traditionally served with sweet mustard, Pretzel and Weissbier, and eaten before noon.
*Bonus tip: in case you don't yet have a Dirndl or Lederhosen, you can do some last-minute shopping around the corner in the Angermaier.
12:00 – Wiesn insight by "Universum Oktoberfest"
Universum Oktoberfest offers guides to the Oktoberfest, with historical background information, insights on tradition, meaning and an introduction on how it all started. Additionally you can book a tour to the "Oide Wiesn", which is located in the south section of the Theresienwiese.
*The Oide Wiesn (old wiesn) is a re-boot of the Wiesn as it was in the beginning, so plenty of tradition and bavarian nostalgia and a quieter, more kids friendly environment.
15:00 – 1st beer: "Käferzelt" (outside)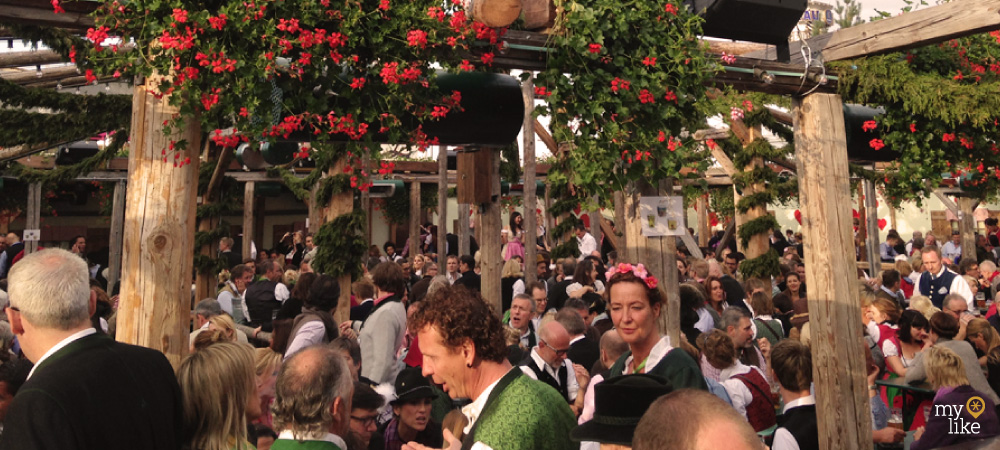 Have your first Paulaner beer in the outdoor garden of the Käfer tent (in alpine chalet style). The tent itself is smaller and reservations are more expensive.
*Käfer is more exclusive and the probability of a celebrity sighting is higher here than in the other tents.
18:00 – Get it going: "Schützen-Festzelt"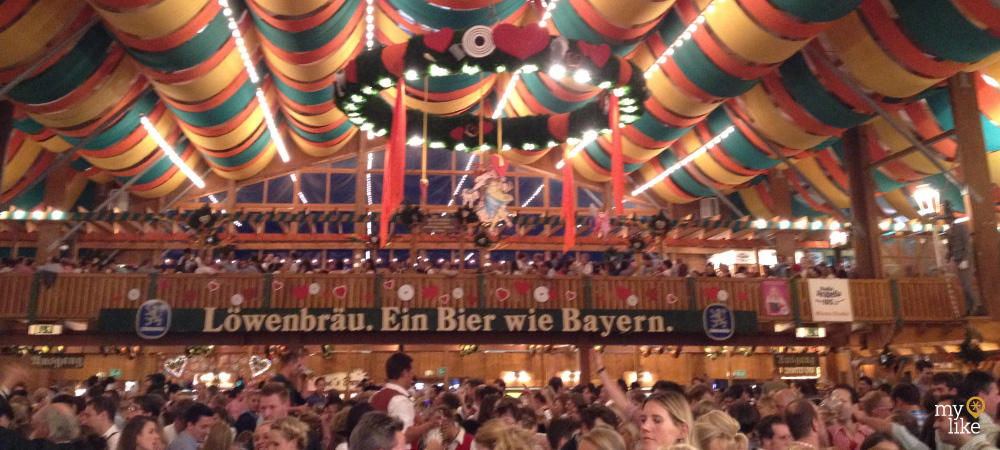 In the evening you should move to the Schützen-Festzelt at the foot of the Bavaria statue. It serves Löwenbräu beer and authentic bavarian pig with malt beer sauce. Unlike most beer tents you can also get booze and wine in the Schützenzelt.
*The tent is very popular for its music and fun atmosphere, partly due to Walter Bankhammer und die Niederalmer.
22:00 – "Weinzelt"
10 pm is Wine tent time, instead of beer they offer more than 15 different wines, sparkling wine and champagne (among others from the Nymphenburger Sekt cellars).
*You can also get beer if you want, but only Paulaner Weißbier and only until 9 pm.
01:00 – After Wiesn: "Wiesnclub" or "Postpalast"
After the last beer tents close at 1 am, it's time to head to one of the After-Wiesn party locations.
You can either go to the Wiesnclub, located right behind the Bavaria statue, which will keep you from desperately searching for a taxi or getting lost in the crowded public transport system.
Or you go to the Postpalast for the late-night wiesn party, which is also in walking distance to the Theresienwiese.
*Either way you shouldn't miss out on the opportunity of attending an After-Wiesn party.
03:00 – Late night snack: "Bergwolf"
After all the drinking and partying, when you're craving nothing more than a straightforward menu – in other words, a good old currywurst and a beer – you should take a break at the late night restaurant, Bergwolf.
*Prices are reasonable and they have three spiciness-degrees to choose from, which is probably the most complicated decision you can handle at that time.
04:00 – Groove: "Ruby"
In the event your late night snack was able to revive you, your next stop should be the Ruby Dance Club, located near Karlsplatz Stachus.
*You should just keep in mind that Ruby is only open on Monday, Friday and Saturday.
09:59 – Repeat … if you can …
With myLike you can create your own Oktoberfest tours and share them with your friends, as well as discover insider tips from locals that you might not know about. So don't waste time and sign up for it on our homepage!