Bits & Pretzels is the new rising star in the german founders festival scene, which is trying to shift some of the startup attention from Berlin to Munich. The 3-day conference brings together leading figures in entrepreneurship and investment and grew from last year's first instalment in September in the Löwenbräu Keller with 1400 attendees to 1800 in January and now 3600, which makes it one of the biggest founder events in Europe.
This year myLike was a proud part of it, presenting our app for the first time to a broader audience with our own booth and new video in the foyer of the International Congress Center Munich (ICM) right in front of the main stage entry.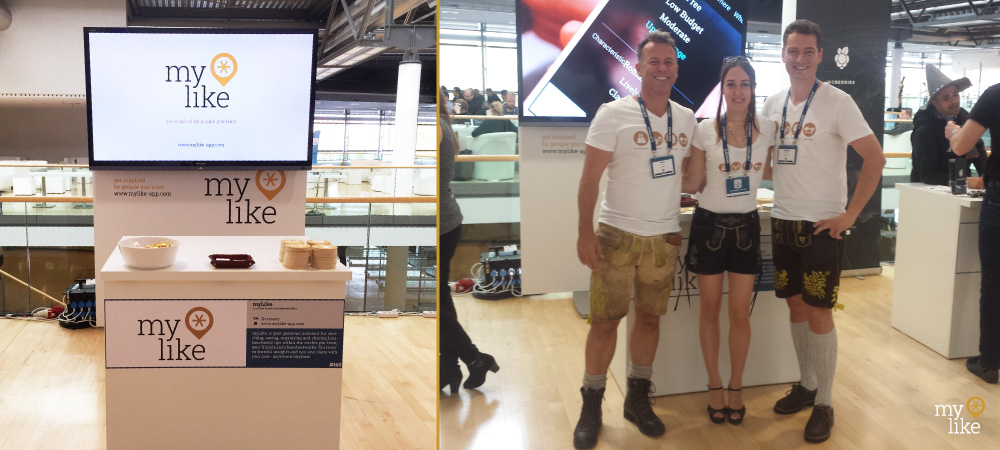 Day 1
The event started on September 27, with an introduction and opening ceremony from hosts Andreas Bruckschlögl, Dr. Bernd Storm, Felix Haas, Bavarian State Minister of Economic Affairs and Media, Energy and Technology Ilse Aigner and Munich's mayor Josef Schmid – all of them of course dressed in Dirndl and Lederhosen.
It was followed by speeches from the co-founders of Zandesk, GoButler (co-founder Joko Winterscheid from Circus HalliGalli is apparently the german Ashton Kutcher), Runtastic, with an excellent insight on their early business model and a reminder that you can also achieve something without investors. Colette Ballou from Ballou PR moderated a short track on how female startup entrepreneurs shape the DigiConomy.
Another great speech came from Gil Penchina who is said to be the most entrepreneur-friendly investor ever, with his syndicate Flight.VC. He aims to get more entrepreneurs to become investors to "tear down the wall between capital and entrepreneurship".
Worth noting was also the presentation of the #Oktoberhackfest winners in the afternoon, the Hackathon was organised by the IHK and Bits & Pretzels on 25th-27th September. The winner team #Tradeport was awarded with a Silicon Valley trip.
After a long day it was high time for a proper afterparty, which was organised with Stylight at the Praterinsel.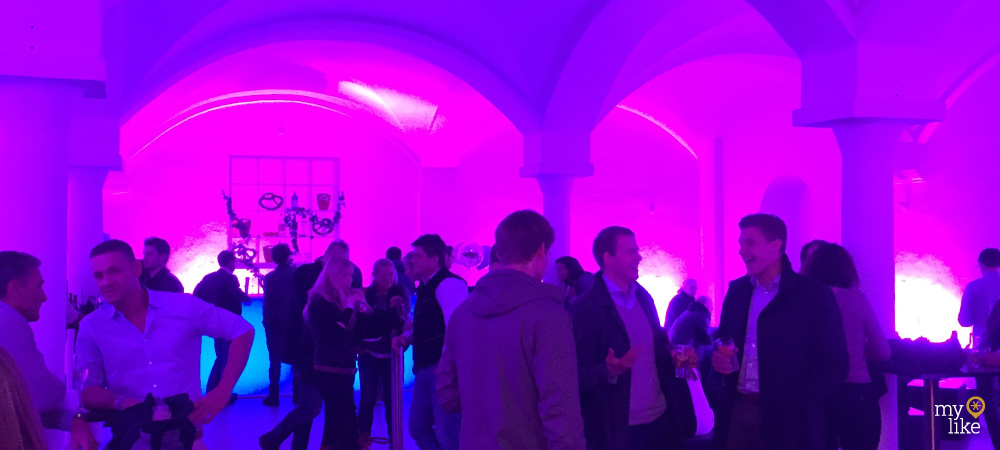 Day 2
While the first day's speeches were exclusively held on the main stage, they were split into six rooms on the second day with differently themed tracks, like the female founders track in room 4 presented by Hypovereinsbank and FinTech discussions in room 5.
But the highlight of the day certainly was the short but intensive 500 Startups Pitches, where one of 7 pre-chosen startups had the chance to win an interview for the 500 Startup accelerator program. They each had 90 seconds to pitch in front of the Bits & Pretzels crowd as well as Felix Haas, Tristan Pollock and Marvin Liao from 500 Startups. Winner was czech-french startup JCParts, that specialised on selling car parts at manufacturer price levels.
The other startup pitches came from 123recht.net that wants to change the availability of legal advice regardless of money or education (excellent pitch), Jodel – a life feed of what is happening around you, MysteryVibe with Crescendo – a vibrator that can change its shape, has 6 motors and can be controlled with a mobile app (they had a booth right next to ours and were overall lovely people), Karosso where you can buy your second-hand car online, Gigmit to book artists online, whose founder destroyed a guitar on stage to show how broken the music industry is … well I guess now we know it.
And then there was that one high-tech pitch that was less product and consumer oriented than the others, but was probably the coolest and most innovative of them all, tacterion, a spin-off from the German Aerospace Center (DLR) in Munich that patented a tactile sensor in form of a polymer-based artificial skin to change the way we interact with technology
(In case we forgot someone please let us know in the comments!)
After the day program at the ICM you could choose between a few side events for the night. There was the Founders Beat at the P1, the OMBash at the Filmcasino, the 4th IHK Crowdfunding Night at Werk1, the Allianz Digital Accelerator InsurTech Pitch, ProductTank Munich #6 and Giesinger Brewery Tour. Eventually we went to watch the Media-Saturn SPACELAB #PitchBattle, which was won by Deutsche Technikberatung and surprised with a last-minute change when Nearlock had to step in for a startup that couldn't come (whose founder also did an excellent job with their app pitch).
Day 3
In the morning of the third day attendees were gathering in the Schottenhammel tent at the Oktoberfest to network with their table captains – successful experts that came to share their experiences with the startups and entrepreneurs at their tables.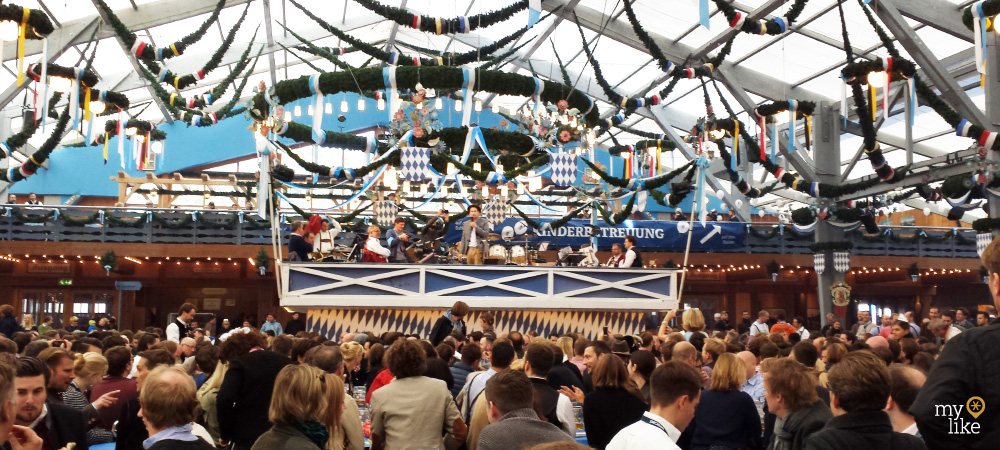 Résumé
As a summary our "coming out" was a full success. Very positive feedback from users, potential partners and interested investors. Now the real fun begins!
Bits & Pretzels, see you in 2016!