In July 2010 the thought first came to me that there must be a solution for situations like this. For years, longer stays abroad and business trips for innovative startups have determined my working life. One day it landed me anew in Chicago with my young company Odersun AG. As the meetings were over, I remembered the small sushi bar I ate wonderfully at last year, on a friend's recommendation. That would be something for tonight. "Where was it again?", I asked myself tirelessly, until I finally recalled the address. Satisfied after the meal again, I made sure to tuck the restaurant's business card into my wallet.
A few weeks later, a colleague, who also happened to be in Chicago on business, asked after this particular sushi bar, which I had mentioned. Of course, I had lost the business card and forgotten the name and address. I tried to describe the way to get there to her: "Pass the Goodman Theatre, after two or three blocks turn left. On the right hand side, there's a 7-Eleven. After about 100m on the left side. I think, at least. And please bring me a business card".
There's already a solution to that? No, there isn't!
Sure, there are apps and tools that help in such situations. But TripAdvisor, Yelp, Foursquare and Co. do not work in the way I imagined. My own personal needs spawned my own initiative. I wanted something where firstly, I could store all my tips and find them again, anytime. Not just the sushi bar in Chicago but tips for my hometown, Munich, too. This purpose was served earlier by a small notebook, marks on a guidebook, a collection of business cards and newspaper clippings. But by now we all digitally connected. With a suitable app I could save my tips, decide with whom to share them and who with me. Exchanging tips with people I trust, that are possibly also locals of a place. Nothing is worse than having to read 1,200 TripAdvisor entries from unknown persons, who are typically tourists and not insiders. No one needs that much information, or 5-star evaluations. Either I recommend something or I don't.
A new platform in the form of a mobile app haunted me in my mind. But it had to be developed, implemented and operated. Do I know any specialists who could help me with it? How much work and how expensive that it be? Could you even make money with it? Other applications have succeeded. Their number of users has grown and they are profitable. And next: What should this App look like?
The right inside tips, trustworthy, simple, practical, personal, daily and accessible everywhere
I had a clear vision of the idea: I save my personal tips, be it a bar, restaurant, service, or another beautiful place, together with personal information, on a digital platform. Someone else is looking for something similar. And who does one ask, when in a foreign city or their own home town, for trustworthy tips or inspiration, without Google overload? One asks his personal, social network. Unfortunately, however, you rarely know exactly who might have a good tip or answer. For example, on Facebook, there's never an immediate response or the option to save them. I also wanted to go one step further and get recommendations from people who share my taste (we call it Taste Match today).
And where does one store the recommendations, in order to find them later? It would also be nice to organize the favourite tips in lists, or be able to follow entire itineraries. An exchange between like minded people in groups would also be great.
I wasn't short of ideas.
With every entry, every recommendation of a friend or acquaintance and every search, this new network should grow. All information in one source, in which everyone can pass on his tips, if he chooses to do so. No more reading of countless travel guides and internet research. No one should have to go to the tourist office again or question complete strangers on the street. All of this must be possible with a single App. And therein protect the privacy of every individual.
Every beginning is difficult. And one who doesn't make mistakes is simply not creative enough.
I had already gained more than 15 years of experience in the Start-up field. So I was prepared for everything that should come my way. Almost everything. Last year I sat down and wrote the specifications. As much as I love Excel, it became only more complex and confusing, so that soon I no longer understood my own entries. Real professionals were needed in order to implement my ideas in a user-friendly way.
The search for a team of experts: one draws his own network from friends and acquaintances and acquaintances of acquaintances and explains everything to everyone with great enthusiasm. So, soon I had the best UX/UI experts, web designers and programmers on board because they were convinced by the idea. With them, professional tools such as Axure came into play, which could transform my Excel confusion in a simple concept.
A name was missing. iLike, my favourite, seemed to be free (even in the App Store), however, only weeks later appeared to have been protected as a brand. A quick replacement needed to be found. Endless research and hours of brainstorming spawned over 500 great names, but unfortunately many were already taken. In the end, the app was named myLike, which ultimately, best describes the core of the product. The way was now clear for the URL, App Store, Google Play, Facebook and Co. but we had not reckoned with the patent office. "This name can not be protected. It is too general", it said succinctly. A coherent line of argumentation would eventually convince the gentlemen from the office: "mylike describes the essential functions of the app very well and is therefore worthy of protection". The development of the logo and corporate identity were then the next mega project, months long work and hundreds of iterations followed.
myLike is in the starting blocks. The results speak for themselves.
Today, after almost five years since my very first thoughts about it, we are ready to go. At the end of September you had the chance to experience myLike live for the first time, at the Bits & Petzels in Munich. Until then, final tests check the robustness of individual functions. Parallel to that an internal beta test phase is being undertaken with selected users. The external beta test phase should be completed in November. Then we can all press the start button together!
After the launch is before the launch. myLike has a lot planned. Investors should also help and benefit.
We start this autumn. With an app that will be the perfect companion, on the road and in everyday life. Whether it be designing an evening, finding the right doctor, or a complete holiday plan, myLike will provide ideal tips and inspiring surprises. If one's looking, for example, for a romantic night away for two, in winter, in the mountains, with an open fire, an igloo could by all means be suggested.
We will continue to further improve the functions of the App and position ourselves internationally. All of Europe, USA, Asia and Australia are on the to-do list. Over the next four years, we are planning for more than 10 million active users. The App will be available in many more languages. We want to be on the Apple Watch and an essential on the first screen of a smart phone.
In addition to individuals, businesses should also be able to use the app. Companies that provide services to their guests on the way. For example, hotels that use the app as a mobile concierge and send their guests on expeditions through the city. Or car manufacturers who can integrate myLike in their navigation systems, to automatically provide the driver with tips from his trusted network. For this we will need investors, as the whole project is currently being financed through private capital.
Someday myLike will be so smart that it advises me to postpone my trip to Chicago by a week, as my beloved sushi bar is still closed for renovations, or my favourite band is playing on the following weekend – Registration for the opening party and the link to buy tickets will then also be provided.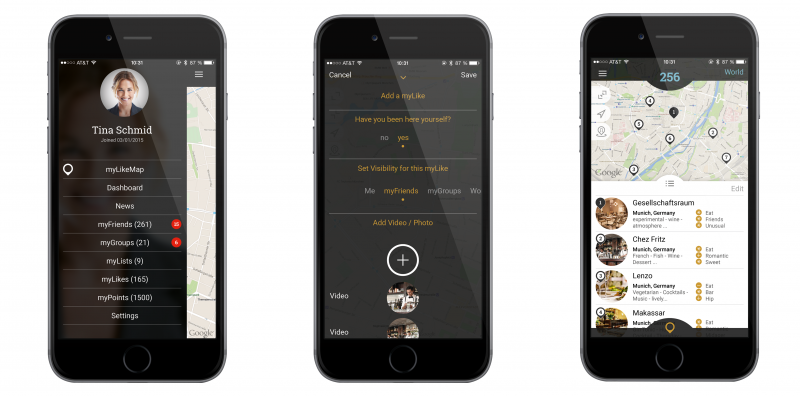 __
Uwe Hering, engineer and founder of myLike, has collected international management experience working at well-established companies like Infineon and disruptive companies like Multilink (today Vitesse), NewLogic (today Wipro), CoreOptics (today Cisco) or Odersun. In 2012 he started Gate2Europe, which served as a basis for his project myLike. In his spare time, Uwe is a passionate outdoor sportsmen, amateur chef and world traveller