myLike enables you to find, save and share great locations and services within your circles of trust: your friends and network. At the same time You can store great places you have been to or want to go to – and you decide who can see each of them – only you or others.
The world and its cities offer an overwhelming number of activities and places to visit, like restaurants, playgrounds, parks, or culture … but which of these best match your own taste and are relevant for you? The best advice always comes from people you know and trust – your friends and social network. With myLike, their experiences are only a few taps and swipes away, allowing you to access them anytime and anywhere to enjoy the city and discover new treasures.
In 2014, we had a vision: we wanted to create an easy-to-use mobile platform for finding, storing, and sharing people's favorite places – based on friends' recommendations, not a flood of tips from anonymous sources. Based on this we started to develop myLike, your personal recommendation app for all the world's treasures: It's up to you whether you want to save your favorite spots just for yourself, for your friends, or to share them directly. You can even set up groups to exchange hints with like-minded souls. You can share individual tips, entire lists and even tours. That way, myLike encourages social networking in cities and beyond, inspires to discover new places, and does all this in a far more personal, trustful and relevant way than existing alternatives.
So, plan your next romantic night out – or your trip to NYC – based on tips by people you trust … and never forget your own travel highlights again – with myLike!
Additionally, myLike can also help hotels, businesses, and the media industry as a mobile concierge to improve their customer service.
Features

The story so far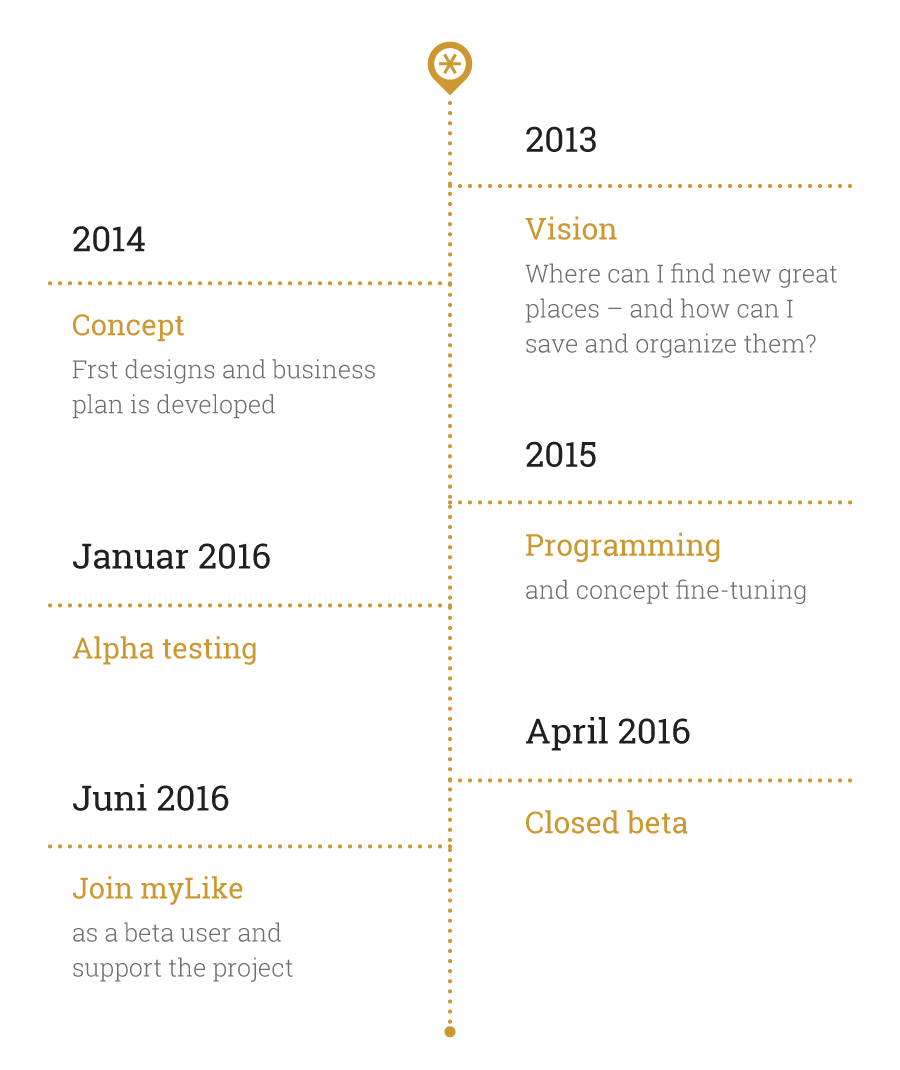 Why we need you
We've already come a long way, but now we need you to get myLike ready for its proper debut. Help us to realize our vision and to implement the fab feedback of our first testers. Your donations turn myLike into your very personal, social notebook – an app that emphasizes trust in your friends and the protection of your privacy.