What's new?
You can now easily find your Facebook friends in myLike and connect with them also in myLike: go to your profile (click the hamburger icon ☰) where you can find 2 new add buttons just below your beautiful picture. A contact selection opens and you can go to the Facebook rider. If your friends are not there yet just invite them with the '+' button at the end of the screen.
You can now navigate to a selected place via Google Maps or Apple Maps (or other mapping services you have installed, depending on your OS). Just open a myLike and hit the DIRECTIONS button.
You can also order an Uber driver directly if you have Uber installed.
The sign-on process was improved.
We have now private, blogger and business accounts that you can select from. myLike is great for getting trusted tips from friends. But now you can also get tips from bloggers and other experts who you can follow on myLike. Businesses can use myLike as a service tool for their customers (e.g. mobile concierge).
You can share other people's places inside and outside of myLike – but visibility is set by the myLike owner!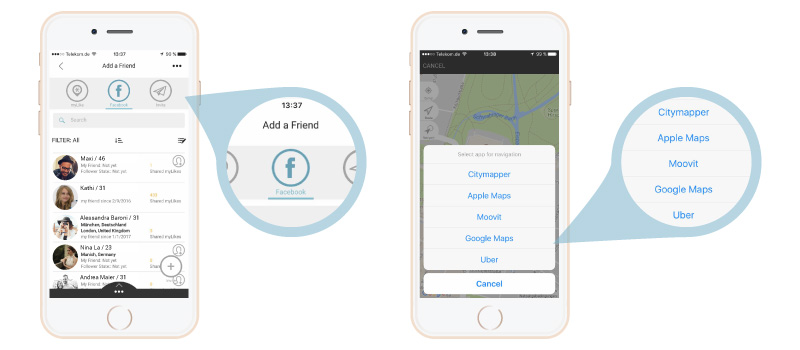 We also fixed some bugs (they were clearly not hidden features :-)).
Here are two more tips how you can get the most out of myLike:
1. Did you know that you can change the center of your search by just pressing down on the map and holding for a second? If you do so myLike will put the center of the search (the blue circle) to this new location and will show you the places depending on your source selection (own, friends, followees or world), your search radius (the little number in the second of the three left nobs on the map) and your search criteria (e.g. eat).
2. Did you know that you can also change your search radius? myLike shows you the search results depending on the search radius below the map. You can then sort the results if you want (by date, distance, rating…). The radius can be changed easily by tapping at the middle of the three buttons in the map. Just adjust the slider. You can set the default value of the radius in your profile/preferences (by default it is set to "world").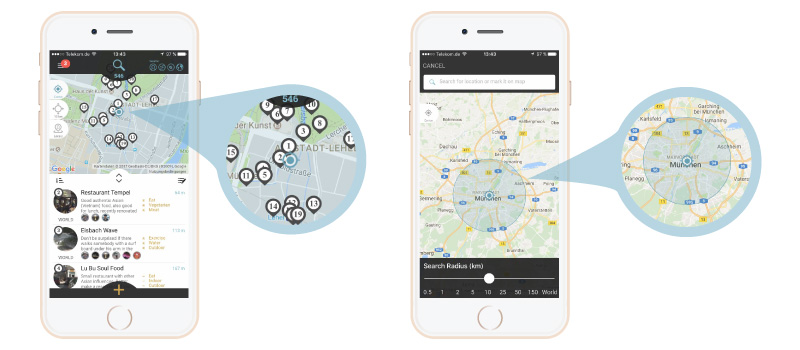 ---
Was ist neu?
Es ist jetzt ganz einfach Facebook-Freunde, die schon in myLike sind, zu finden und als Freunde/Follower in myLike zu addieren. Gehe auf Dein Profil (Hamburger-Zeichen ☰) und wähle die neuen Buttons direkt unter Deinem wunderbaren Profilfoto und selektiere die Facebook-Spalte. Natürlich kannst Du damit auch direkt Deine Facebook-Freunde zu myLike einladen indem Du auf das "+" am unteren Rand drückst.
Du kannst Dich jetzt zu jedem Platz direkt navigieren lassen. Öffne ein myLike und drücke "Richtung". Die Karte öffnet sich und drücke auf der Karte "Navigieren" . Jetzt kannst Du den individuellen Karten-/Routing-Service, der auf Deinem Handy installiert ist auswählen (abhängig von Deinem OS).
Damit lässt sich auch ein UBER-Taxi rufen, wenn Du Uber installiert hast.
Der Registrierungsprozess wurde vereinfacht.
Du kannst Dich jetzt entweder als privater Nutzer, Blogger/Influencer oder als Firma anmelden. Als privater Nutzer kannst Du somit nicht nur von Deinen engsten Freunden vertrauensvolle Tipps erhalten sondern jetzt auch den Bloggern in myLike folgen denen Du vertraust. Hotels und andere Unternehmen können mit myLike Ihren Kunden persönliche Tips geben (z.B. als "Mobiler Concierge").
Du kannst jetzt myLikes von anderen Nutzern innerhalb und ausserhalb von myLike teilen – jedoch ist die Sichtbarkeit durch den Freigabelevel des myLike-Besitzers definiert.
Wir haben auch einige andere Kleinigkeiten verbessert.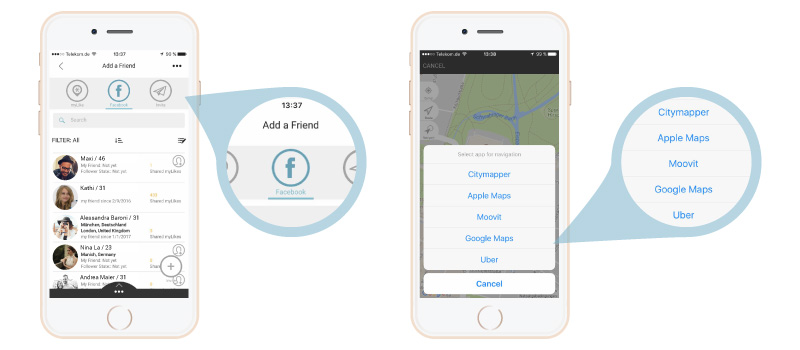 Viel Spass mit der neuen Version!
Wusstest Du schon …
… dass Du das Zentrum einer Suche direkt auf der Karten ändern kannst? Bewege einfach die Karte und drücke etwas länger drauf. Das Zentrum bewegt sich dort hin und die Ergebnisse werden abhängig vom Radius (der aktuelle Wert ist auf dem mittleren Knopf auf der Karte), der Quellenauswahl (Quelle: Du, Freude, Leuten denen Du folgst oder Alle) und der Suchfilter (Lupe, z.B. : Essen) angezeigt.
… dass Du den Suchradius festlegen kannst? Drücke einfach auf den mittleren Knopf (links auf der Karte) und verändere den Regler. Damit werden dann mehr oder weniger Ergebnisse in der Ergebnisliste angezeigt. Diese kannst Du dann sortieren (Entfernung, Erstellungsdatum, Beurteilung). Der Standart-Wert ist die gesamte Welt. Du kannst diesen in Deinem Profil/Präferenzen anpassen.