Have you ever visited Denmark? Chances are that you took a stroll along Nyhavn, got that shot of the little mermaid, and went on a shopping spree on Strøget – in Copenhagen of course! Have you ever heard of Denmark's second biggest city Aarhus though?
Aarhus tends to be overlooked by visitors first and foremost heading to Copenhagen but this charming city in the province of Jutland actually has a lot to offer! And did you know that Aarhus is the European Capital of Culture 2017? Thanks to this title, there's extra much going on in town so if you decide to visit Aarhus before 2018, you're in for a treat!
The sights you shouldn't miss:
Den Gamle By
If you'd like to experience what life in Aarhus was like back in the day, you have to visit Den Gamle By. This open air museum in the heart of town not only exhibits old buildings but let's you travel back in time with a little help of actors, carriage rides, shops and bakeries.
The special thing about this open air museum is that it doesn't focus on one particular time period, but is divided into three sections showing life before 1900, life in the roaring 1920s, and the crazy 1970s. And to provide you with an even greater knowledge on old Aarhus, the exhibition "The Aarhus Story" takes you on a journey from the Viking age through medieval times up to today's Aarhus, telling you what life was like in the area and how the city has developed.
This exhibition takes place as part of the European Capital of Culture (Aarhus 2017) campaign and can thus only be experienced before 2018!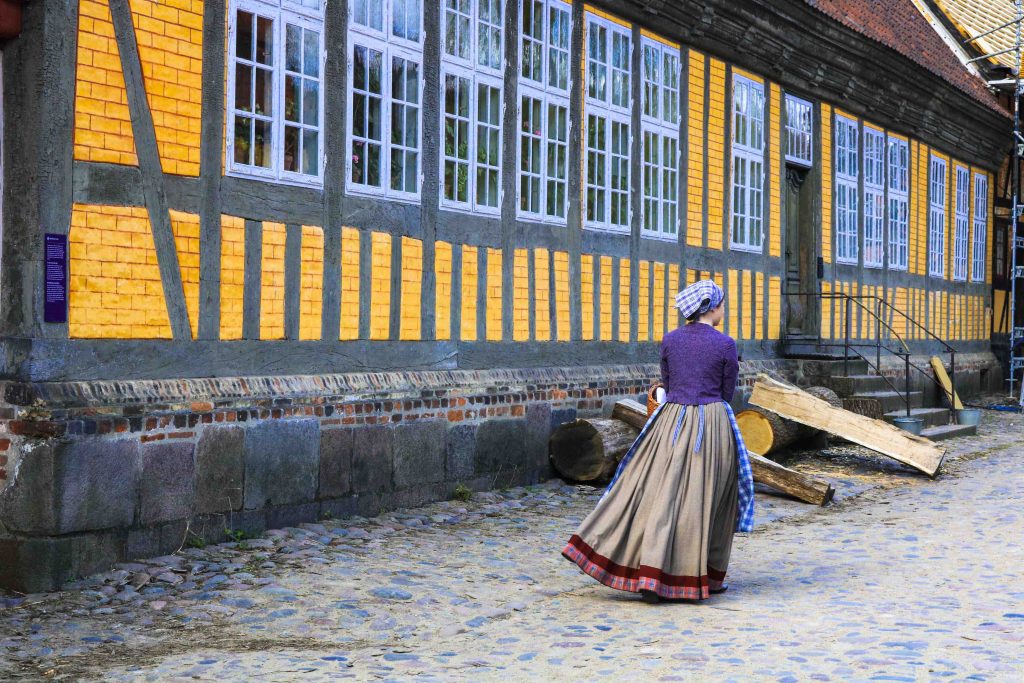 Moesgaard Museum
Moesgaard Museum is known mostly for its display of the "Grauballe Man", a bog body from the Iron Age that was found close to Aarhus in the 1950s. The body is fully preserved and is said to be one of the best preserved bog bodies that exist today. Other than that, Moesgaard Museum is an archaeologic and ethnographic museum showcasing among others, the Viking age and its brutal battles.
In the context of Aarhus 2017, there will also be an open air theatre performance by the Royal Danish Theatre, called "Red Serpent", on the roof of Moesgaard Museum this summer, promising to bring Viking culture to life like no other.
AROS Art Museum
AROS is the highlight of Aarhus and if you've ever seen pictures of a giant rainbow panorama on top of a building on Instagram or Pinterest, AROS is where these pictures have been taken. This art museum is far from boring and features several highly unusual, as well as interactive pieces.
Apart from the rainbow panorama, the sculpture "Boy" by the Australian artist Ron Mueck is another highlight of the museum. At 4,5 metres height and 500 kg weight, "Boy" is an uber-dimensional and very life-like sculpture of a boy, made of glass fibre that will surely leave a lasting impression on you!
At AROS, you can also find classic and modern Danish paintings, abstract sculptures and lots of temporary exhibitions, such as "The Garden – End of Times; Beginning of Times" that is part of Aarhus 2017 as well. An exhibition in three acts that will last throughout September, "The Garden" is shedding light on the relationship between humans and nature, shows how nature is treated in the urban setting and finally, analyses what effect climate change might have on our ecosystem.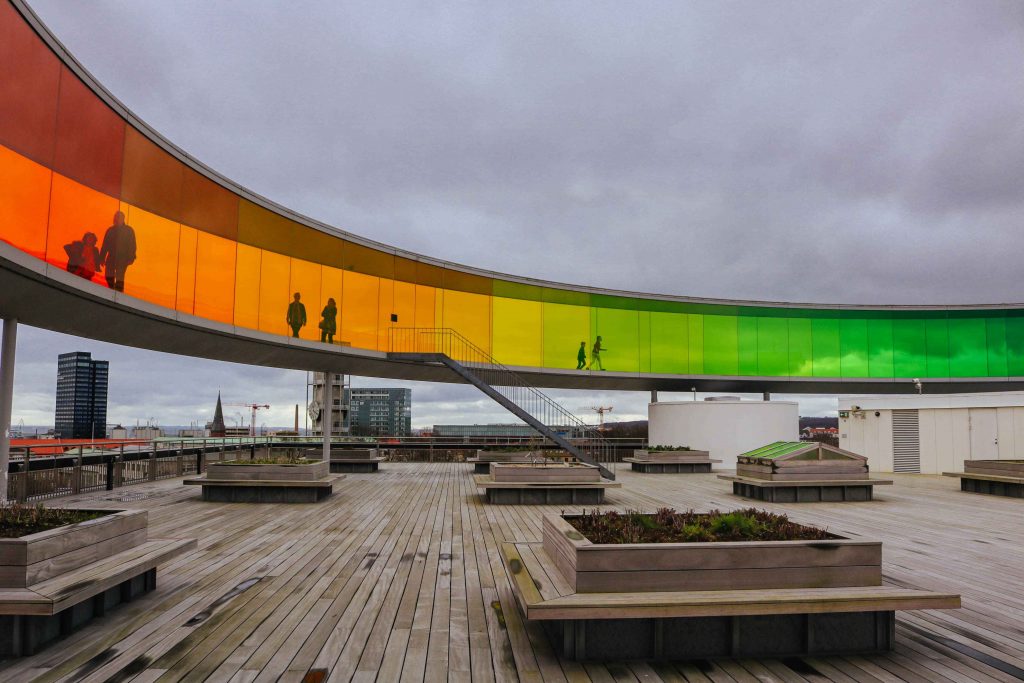 Dokk1
One of many architectural highlights of Aarhus is the new library and community centre Dokk1. Opened in 2015, it has quickly become the focal point for tourists looking for information and for locals to socialize. The Aarhus 2017 campaign has its headquarters here and it is thus no surprise that Dokk1 is the location of one of the many art performances happening in town during the summer. "The White Tribe" is taking you on a journey in and around the building of Dokk1 to make you reflect over where we came from and where we will be going in the future.
Aarhus Ø and Isbjerget
Another architectural highlight of Aarhus can be found in the neighbourhood of Aarhus Ø at the waterfront. Aarhus Ø is the newest quarter of Aarhus and certainly also the hippest one. There's a community garden, an ocean swimming pool, a beach bar in the summer and of course "Isbjerget", the iceberg.
Isbjerget is an aptly named, unique building block situated right at the waterfront with what has got to be the best view in all of Aarhus. The shape of the building block has become a trademark of Aarhus and the recreation space around it, is popular among locals and tourists alike.
Bellevue Beach
If you're visiting during the summer, you can't miss out on the sandy beaches of Denmark and one of the bigger beaches close to Aarhus is Bellevue. Only 4 kilometres from the city centre, Bellevue invites to sun-bathing, swimming, beach volleyball or just a stroll along the ocean.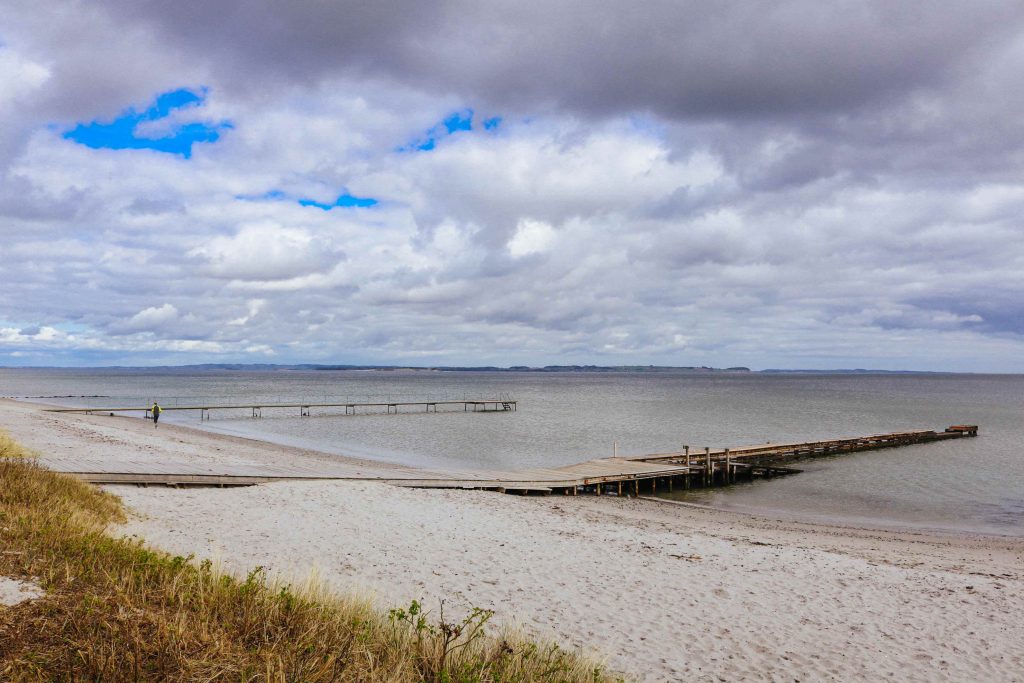 The Botanical Garden
Another sight of Aarhus that's perfect for the summer is the Botanical Garden. Situated just a stone's throw from Den Gamly By, the garden is a great place for taking it easy between sightseeing and cultural events. The garden features Danish plants and flowers, but also portrays the flora of the Mediterranean, the desert and the tropics.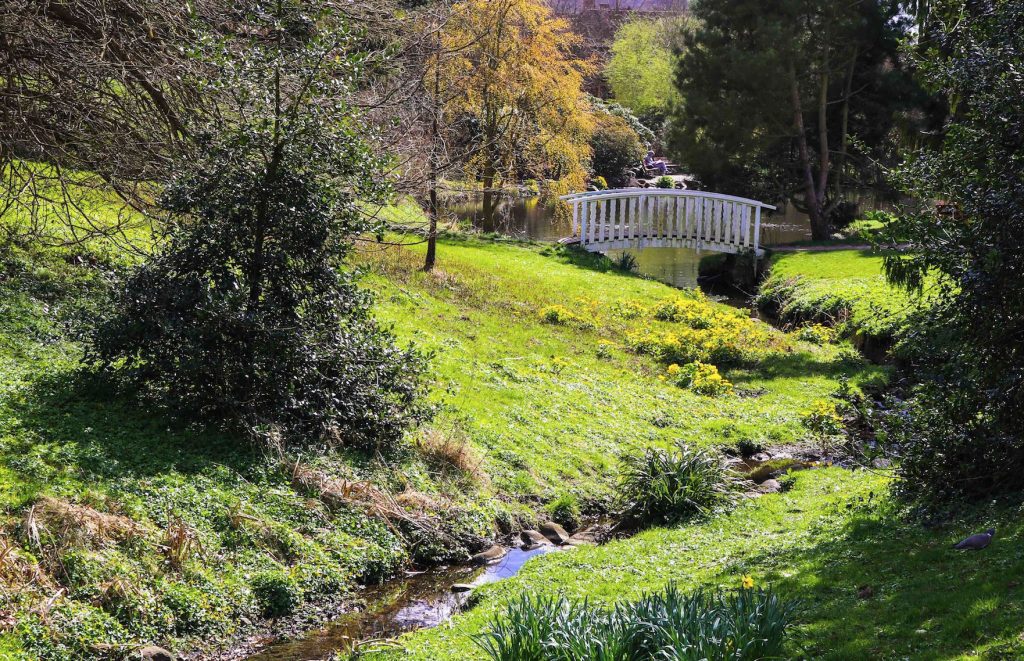 Special cultural happenings in 2017:
Aarhus is the European Capital of Culture only for 2017 so there are lots of events taking place in the city this year! If you're into sports, you shouldn't miss the athletics championships in late July or the Marselis Run in late August. If you're however more of a foodie, the Danish Championship in Hot Dogs, taking place in early September, might be a dream come true?
Aarhus really goes all out with celebrating culture this summer so there are also a few festivals you might want to attend. How about the street festival in August for example? Or the "most beautiful" music festival Smukfest where among many others, Ellie Goulding and White Lies will be performing?
And if history is your passion, you definitely wouldn't want to miss the big 18th century re-enactment at Gammel Estrup Manor!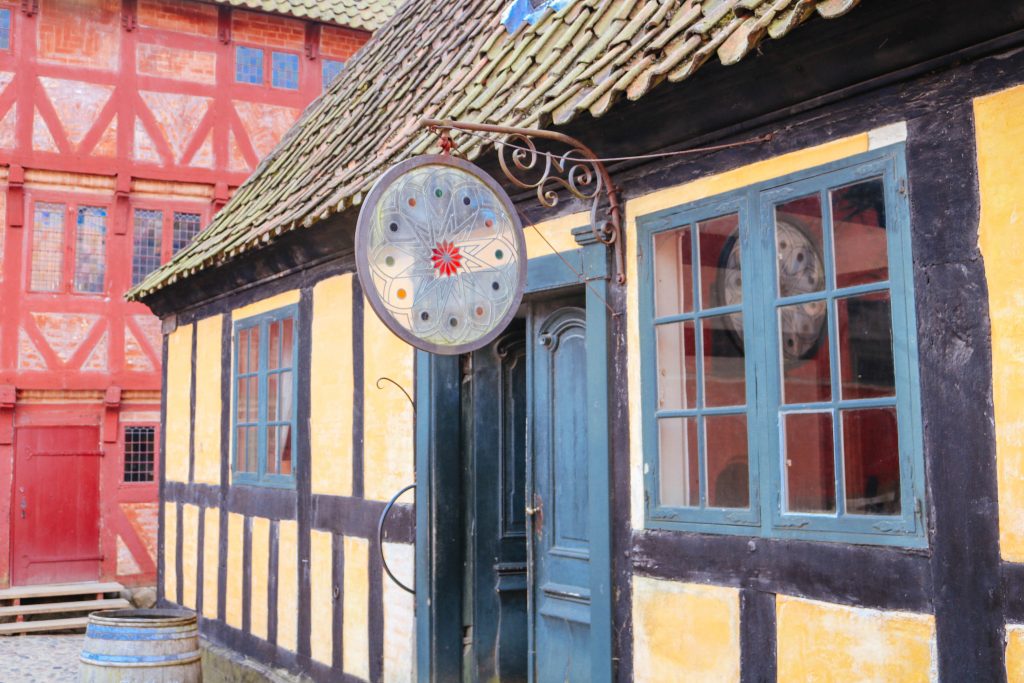 You see, Aarhus offers a ton of things to see and do and is a great alternative to Copenhagen if you've already been there or if you just find the capital city too expensive. Aarhus might be smaller than Copenhagen but especially in 2017, the city's cultural scene is in no way inferior to that of the capital!
If you decide to head there, don't forget to bring this myLike list with all places mentioned.
Images and text by Vanessa Brune