Christmas fairs are the perfect events to get you in the Christmas mood, especially when there's no snow! Ambling under colourful Christmas lights and tasting lovely mulled wine, is perfect for gift-giving inspiration… let alone the wonderful presents you will find. Some of the most famous Christmas Fairs in Europe are in Budapest, we've collected them for you, to help you find your festive mood!
1. Four Seasons Christmas Market
 As we've already mentioned, nothing sums up Christmas Fair in Budapest better than Fairy-tale. If you are into magical places then you will love the luxury Christmas Market situated in Four Seasons, here you will find the highest quality Hungarian products, including: gloves, porcelain, wines, not to mention local food produce. You don't want to miss this market.
2. Fashion Street Advent
Take metro line 3 to Deák Ferenc Square and we promise another real Christmas treat! Lined with wooden booths selling a wide range of gift ideas the street is beautifully illuminated the entire length with festive Christmas lights – what a photo opportunity! This is also the place to sample Hungarian cuisine and drink mulled wine.
After exploring the wide range of delights Fashion Street has to offer you will find yourself at Vörösmarty Square (situated at one end of Fashion Street).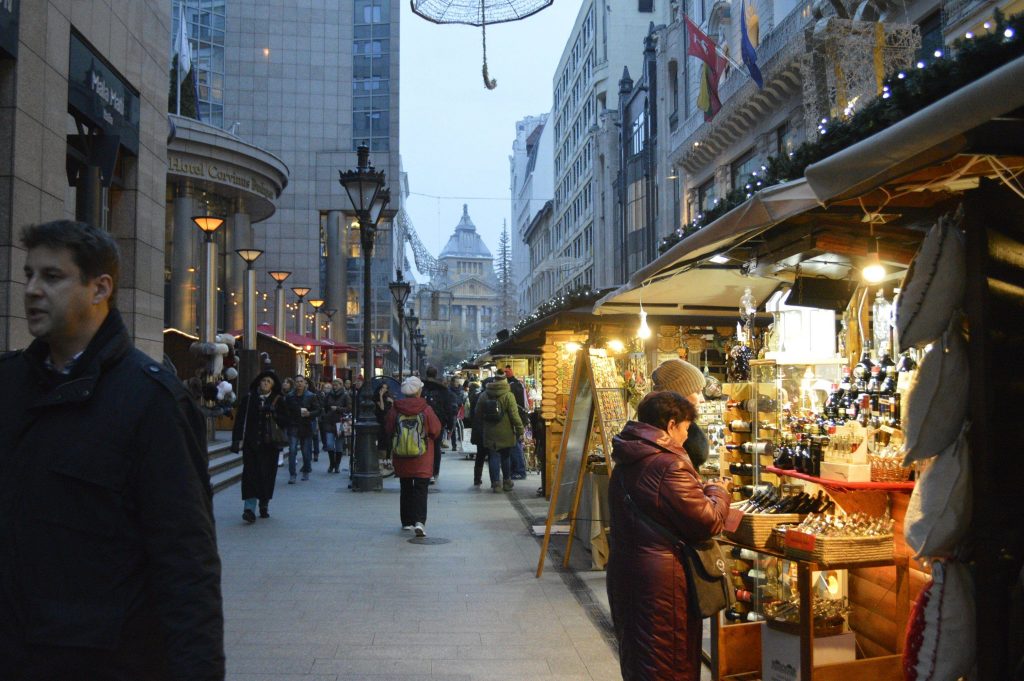 3. Vörösmarty Square
Probably the fair most visited by Hungarians as Christmas arrives. Vörösmarty Square is one of the prettiest and most iconic fairs in Budapest, visitors and locals alike flock to this Fair for the lively atmosphere.
Try to plan your visit for the end of day when the lights go on! It's magical and even without snow it feels like you are in a winter wonderland. Snow or not, Christmas temperatures are cold, and even if the lines seem long it is definitely worth queuing up for a local glass of warm mulled-wine – that should keep the insides glowing and festive smile on your face! You can even take home your own Christmas Fair mug – what a great holiday memento! At Vörösmarty Square the goulash and roasted paprika cream is a must!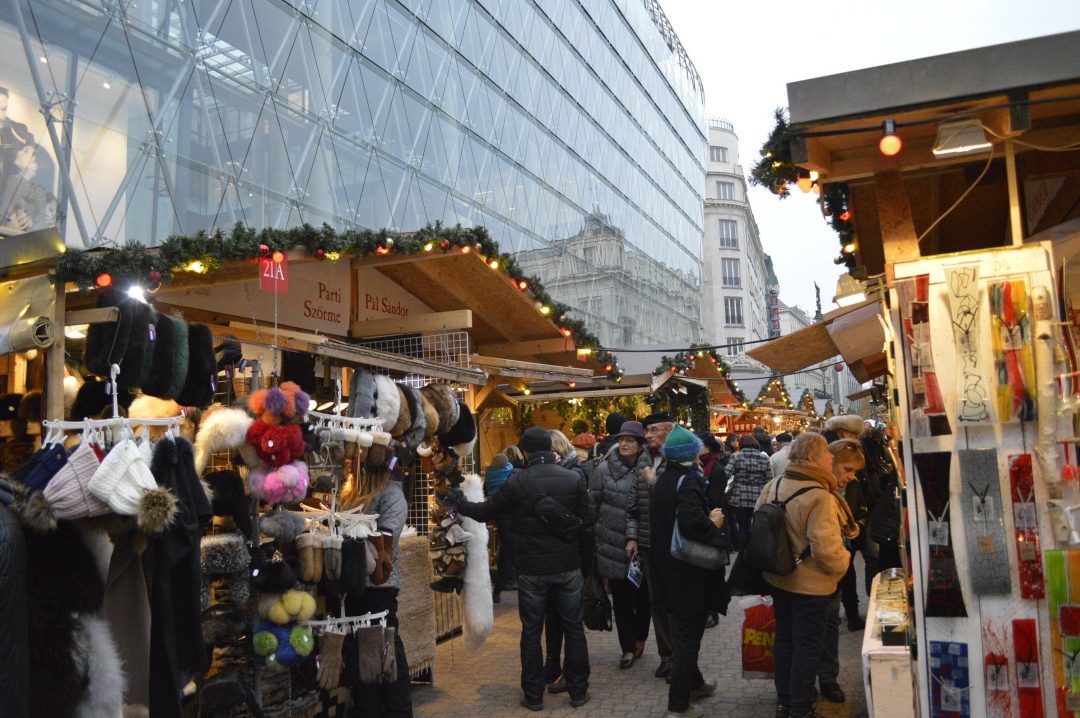 4. Advent Feast at the Basilica
We all know there is no use beating ourselves up over eating and drinking too much over the holiday season – it is the end of the year and we all have cause to celebrate! But if you are feeling slow or thinking you'd like to be prepared for the following year than Christmas Sports are a pretty fun way to feel you have earned another big bowl of goulash and mug of mulled wine! From beginners to the experienced – the ice-rink at the Basilica is a wonderful way to skate into your Christmas cheer. This huge rink is further enhanced by annual illuminations – each year the grand façade of St. Stephen's Basilica is lit up with 3D holiday imagery.

5. Gozsdu Christmas Market
Pick up any tourist guide and you will find particular mention of Gozsdu Courtyard, and for good reason. The area is brimming with cafés, restaurants and bars and throughout the year the courtyard is filled with locals and tourists alike. This is the place to meet, the place to have dinner, or just chill with friends. You won't want to miss the flea market on weekends either.
Gozsdu Courtyard also has it's own Christmas Market, which is a perfect place to look around before dinner or a big night out. In keeping with the variety and liveliness of the square Gozsdu additionally hosts a Hanukkah celebration and market – keeping the variety and spirit of the square constantly alive.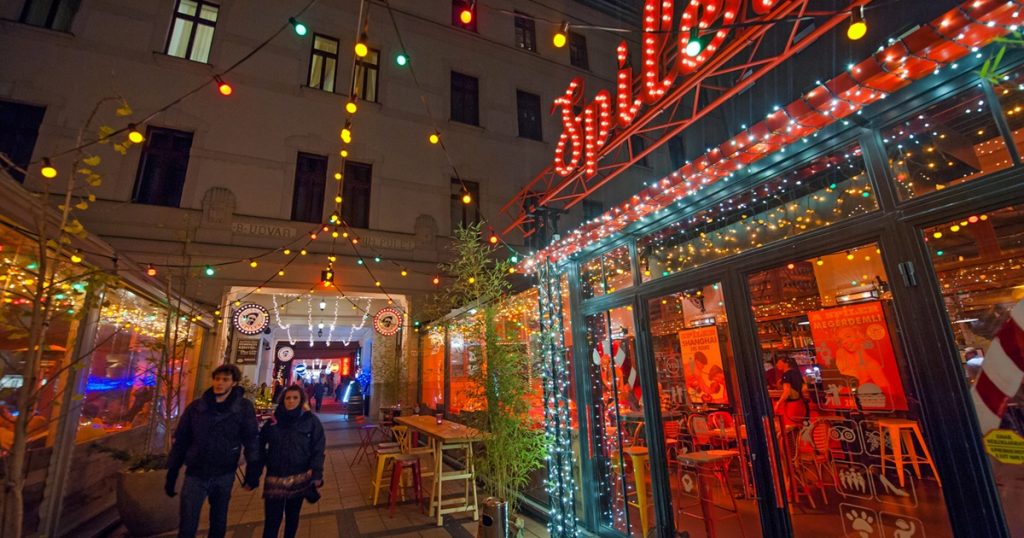 Credit: WeLoveBudapest
6. Advent at Várkert Bazaar
If you think we are finished with our list of great fairs to visit in Budapest … well here is our last and most favourite of all the markets. Hop on the bus 16, alighting at Clark Ádám tér, to explore Várkert Bazaar. Situated under the beautiful Buda Castle you can't miss it. Relatively new to the Market Fairs of Budapest – you will come across many locals still very excited about experiencing the magic of Várkert Bazaar. This market is especially perfect for families, being extremely child friendly with plenty of opportunity to let the kids play freely whilst you shop, not to mention the range of workshops on offer for youngsters.
Whether you have a family, are out for chic fun, or after some scenic ice-skating you will find the perfect spot for yourself in Budapest.
We've created a list of these Fairs and Markets on myLike, so you won't miss them! Click here to view all places on your mobile phone within the myLike app: