13 Females. 10 Days. One Small Island. Sounds like a disaster, right? Well, much to my surprise, the Digital Nomad Girls Retreat was the best 10 days of my year so far. I'm naturally one of those travelers who loves to do things "rogue." When I see ads for co-work and travel experiences, for loads of money, my eyes roll so much they almost fall out of my head. But something about this retreat made me feel different. I took a chance on the DNG Retreat and it turned out to be an experience of a lifetime. So what exactly made this retreat worth it?
The community
I had already been a part of the Digital Nomad Girls community on Facebook for about a year. I trusted the leader of the group, Jenny. I thought that the girls participating would be like minded, inspirational, and complete bad-asses. I was 100% right. The women that attended the retreat were a true reflection of the quality of the Digital Nomad Girls community. Our careers and interests varied from web designers and developers to social media ad managers and entrepreneurs. The mix was delightful and any worries I had about 13 women being together for 10 days disappeared the moment we all got together with a large bucket of Sangria.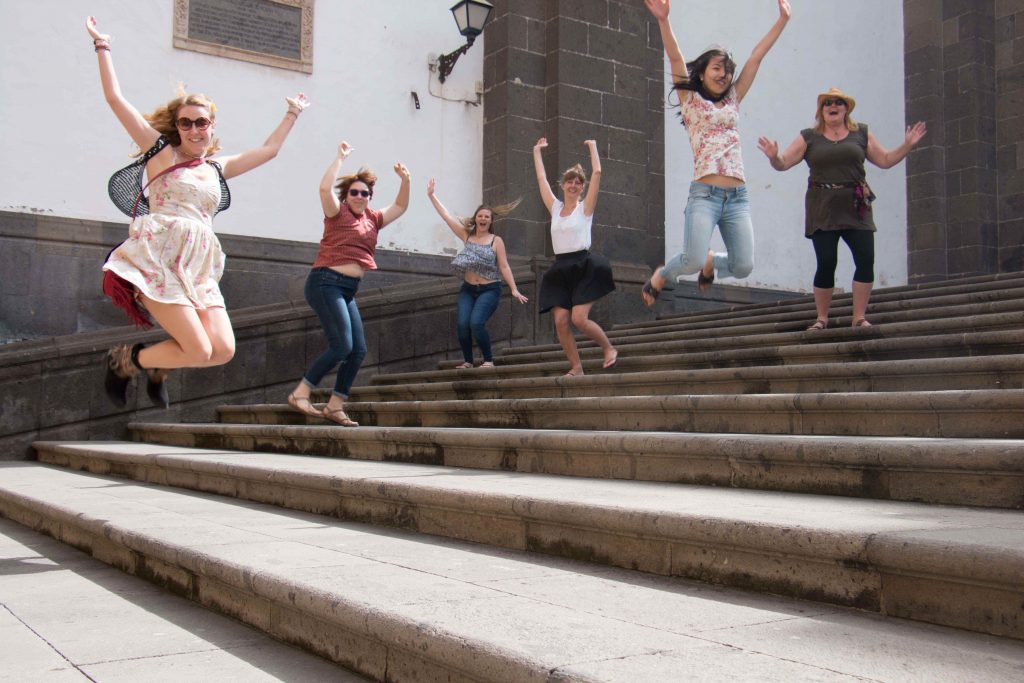 Price and location
To be honest, I did not really know where Las Palmas is at first, but when I saw the Canary Islands on a map, I got very excited. I had never been to Spain before and this was my perfect chance! When I saw the video from the 2016 DNG retreat I thought, wow this could be for me. But was I actually going to spend money on an organized travel event? Almost every day I received emails or Facebook ads promoting retreats with prices over $1,000 for just a week, or over $5,000 for a month. These programs certainly did not grab my attention. But when I saw the affordable price of this one, it was an offer I couldn't refuse. I happily signed up and awaited the first of April.
As for the location, Las Palmas turned out to be my newest obsession. It's a small city on the island of Gran Canaria, filled with sandy beaches, great nightlife, culture, amazing traditional food, and wonderful people. I learned my Spanish in Guatemala, so I was nervous about actually speaking Spanish in Spain. However, on the island, the Spanish is much more Latino style than Castellano. It was such a relief. Not only that, the local people in Las Palmas are so kind and helpful, it doesn't matter if you can speak the language or not.
Coworking and Coliving at Restation
Upon arrival, I knew I made the right decision. Jenny had centered the entire retreat around the coworking space, ReStation. The owner, Maria, has a great eye for detail and made us all feel very welcome. Our accommodation was modern, clean, and central to the city and beach. A welcome packet was waiting for each of us, including a t-shirt, a thoughtful handwritten note, and a bottle of Rosé. The apartment was stocked with breakfast food and clean water. We also got SIM cards pre-loaded with data to use. Living and working at Restation was a blast! It is surrounded by stores and restaurants, and only a few blocks from the beach. It's a large, open space, with tables, comfy chairs, and an enclosed area for conference calls. The thing that impressed me the most about Restation was how many events they regularly put on. There is a creative breakfast each week where someone prepares a topic to talk about for 5 minutes. Everyone gathers to eat and listen to the information, and then have a discussion about it. Almost every day Maria makes a reservation at a restaurant in town for anyone who wants to eat lunch together. At night, there are lots of meet ups in bars or at the beach. These events made Restation the most enjoyable coworking space I have ever been to.
The Retreat Program
The retreat offered several physical activities that I highly enjoyed, like hiking and exploring aboriginal land on El Roque Bentayga, and yoga on the beach. We had plenty of social time with dinners, drinks, get togethers in our apartments, and cocktails on the beach. But the best part of the entire trip was our brainstorming sessions together- Masterminds. Simply put, each of us got the opportunity to present a topic or question that we really need help with, to the group for 30 minutes. It's called a Mastermind because those sessions were truly masterful. Everyone has their area of expertise and offered their own specific opinion on the idea or question. Each of us came away from our Masterminds with a recording of the brainstorm session, some notes on where we want to take the idea in the future, and some of us even had a step by step plan to follow as soon as the retreat was over. We also held short skill shares. A few of the girls, including myself, had a skill or some tips to share with the group. We learned about copywriting techniques, SEO, Facebook Ads, how to successfully run a business, and even how to negotiate salaries. I taught some easy steps for powerful email marketing. These Masterminds and skill shares were invaluable to the experience and really made the retreat worth it for me, propelling my motivation and inspiration to really get going on my projects.
Reflecting back on the retreat, I can definitely say it was worth every penny. I now have 12 close, like minded friends to keep in touch with. We plan to do group mastermind calls in order to keep each other accountable to our goals throughout the year. The entire trip was valuable beyond belief, but perhaps the most incredible part is what we will create now that the retreat is over.
If you go, don't forget to bring this myLike list with all the places mentioned! Download and save it for later: