Updated December 22, 2016.
Sometimes when you're stressed out and constantly trying to catch up with work and life, you just need a break and a quiet and maybe even luxurious place to charge your batteries. So, what could be more relaxing than a massage in an exclusive wellness hotel up in the Alps? Even better when you can go skiing in-between sauna visits and wellness treatments.
This is a list of our favourite wellness hotels in the Austria and Germany. Maybe you'll find a new spot for your next winter holidays!
1. Das Kranzbach – Krün, Germany
The chalet in the style of an English country house is located in a forest at the foot of the Zugspitze and is surrounded by the Wetterstein mountains, which guarantees for a very idyllic and quite atmosphere.
Kranzbach's restaurant serves Bavarian specialties as well as organic meals and its wellness program ranges from a pool house with saunas and a ladies' spa and Ayurvedic treatments to yoga workshops and detox programs.
Apart from that it's the perfect destination if you want to enjoy the wonderful nature of the area while hiking or cycling in summer or go cross-country skiing in winter.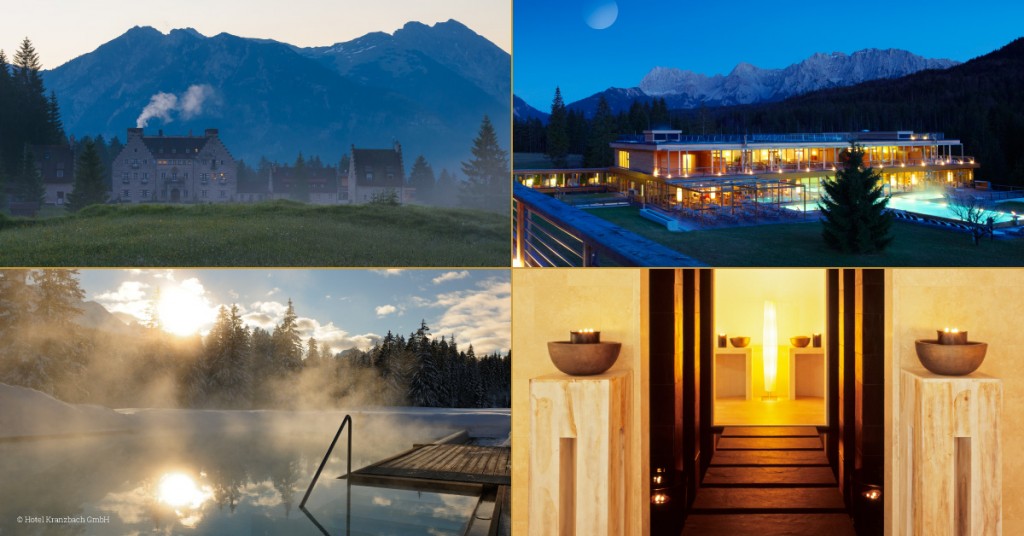 2. Almwelt Austria – Steiermark, Austria
Almwelt Austria is a complex of 22 rustic chalets that come in 8 types with characteristic names like "Jagahütt´l" (hunting cabin), "Hirtabua" (shepherd boy), "Försterin" (forester), "Holzknecht" (woodcutter) or "Sennerin" (dairy maid), and a hotel named "Jagdhaus" (hunting lodge), located directly at a slope in Reiteralm, promising an unforgettable doorstep skiing experience.
Private saunas, hot tubs, a spa area, massages and beauty treatments 1200 m above sea-level and a restaurant, the Schnepf'n-Alm, with a children's playroom that serves traditional and seasonal cuisine round out the experience.
Those looking for romantic holidays should book the small Kuschelhütte Diana with tiled stove, four-poster bed, jacuzzi, sauna and a terrace to enjoy beautiful alpine sunsets for a complete romantic overkill … But don't worry, your girlfriend will love it.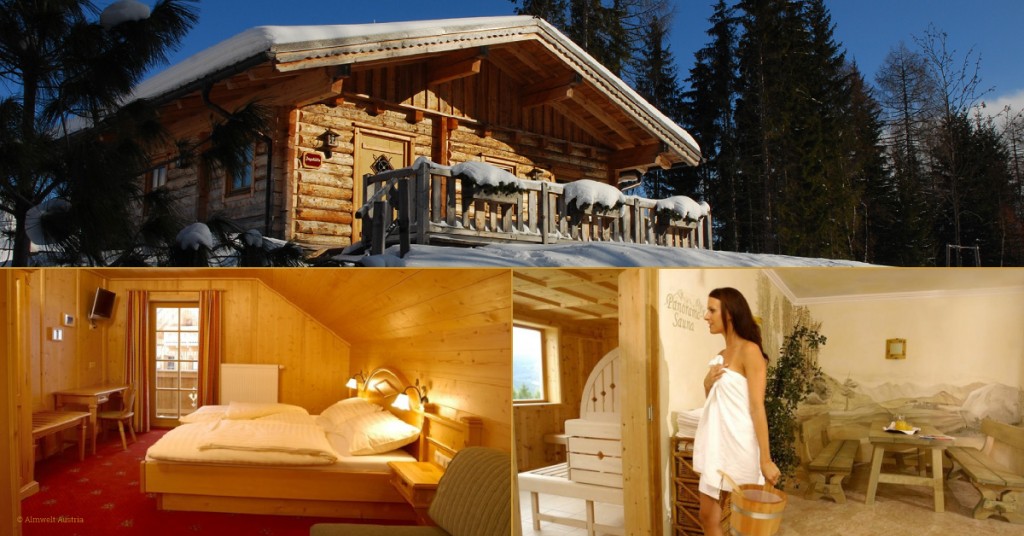 3. Grand Tirolia – Kitzbühel, Austria
Grand Tirolia's strength lies in its beautiful, spacious rooms with modern design and wood accents and an excellent spa with 22 different saunas, indoor and outdoor pools, delicious food in the open kitchen "Bisto Tirolia" and the surrounding nature plus golf course.
Part of the hotel is a "Herbarium Bar", lobby bar and the hotel restaurant "Eichenheim".
4. Das Kronthaler – Tyrol, Austria
This luxurious alpine lifestyle hotel is located between the ski slopes in the Karwendel Alpine Park and Lake Achen.
The Kronthaler impresses with its sophisticated design and a large spa center including outdoor pool, various saunas and steam rooms as well as infrared cabins, healing salt grotto, gym, various beauty treatments and their own hairdressers.
Enjoy its gourmet cuisine in alpine tradition or champagne on its rooftop while overlooking the area with a breathtaking panoramic view.
Surrounded by the beautiful Tyrolean scenery it's the perfect destination for sport enthusiasts as it allows you to do everything from hiking, biking, golfing, cross-country skiing and even riding by Lake Achen!
So, if you can afford it go for it!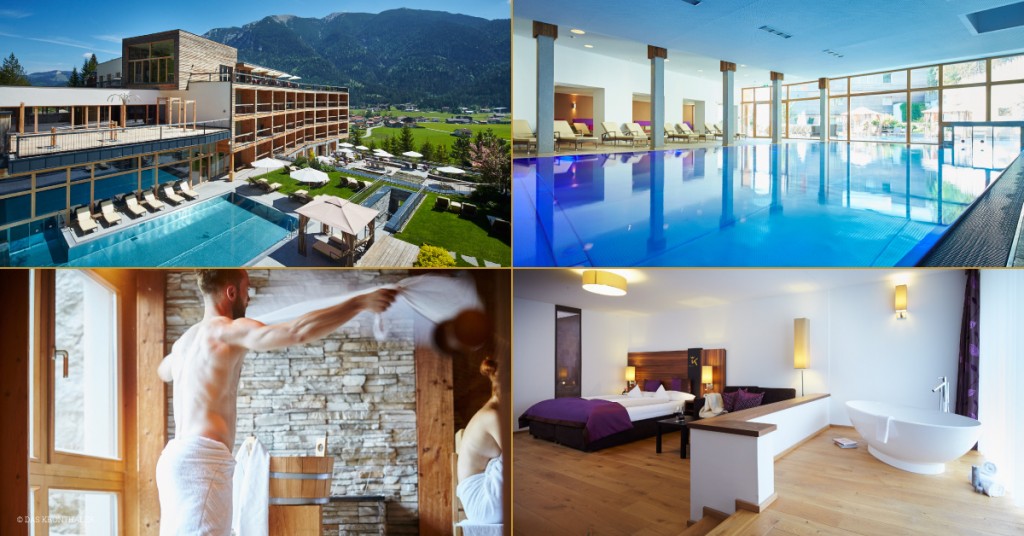 5. Kempinski Hotel – Das Tirol – Kitzbühel, Austria
Another luxury hotel on our list. Kempinski's "The Spa" includes 3 indoor and outdoor pools, 12 treatment rooms offering various massage programs as well as body and beauty treatments, while their 5 indoor and outdoor saunas include a biosauna, finnish sauna, lava sauna and a salt stone sauna.
They offer authentic Alpine cuisine in the Restaurant Steinberg while "Asia meets Tyrol" is the motto at the Restaurant Sra Bua. In addition to the two restaurants they also have 2 bars and a kids club.
But the highlights of Kempinski's "Das Tirol" certainly is the BBQ on their sun terrace that they offer in summer and their Penthouse Suite.
6. Maierl-Alm – Kirchberg in Tyrol, Austria
Maierl-Alm is situated in the Kitzbühel Ski Arena (which hosts the famous Hahnenkamm Race) in Tyrol with traditional but stylish blockhouse chalets and a hotel – the "Mountain Inn" .
It is located directly at the ski slope and provides a fantastic panoramic view of the Alps. The beautifully decorated restaurant offers excellent Tyrolean cuisine and is complemented by a large terrace that offers a very stylish Apres Ski with their own DJs playing Ibiza style music.
Maierl Alm's spa area comprises of a large indoor swimming pool with view of the 'Großer Rettenstein', a Finnish sauna, Hammam, a "rain shower" using fresh water from a natural spring and various massages.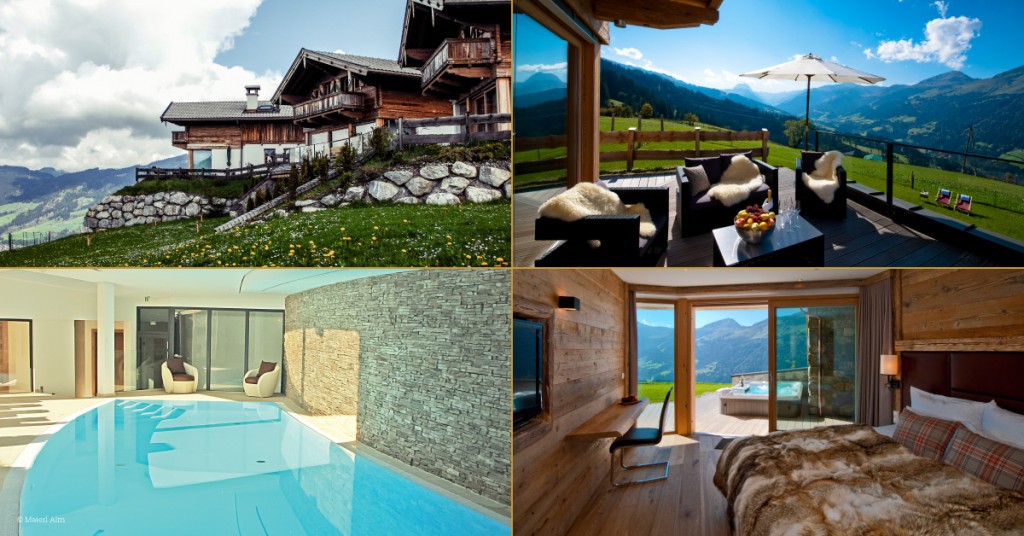 7. Jungbrunn – Tyrol, Austria
Wellness and lifestyle hotel Jungbrunn above the Tannheimer Tal, surrounded by Tyrolean mountains bribes its guests with a luxurious and modern approach to Alpine architecture and design.
The hotel's main highlight certainly is its award winning, extraordinary 7000 m2 spa with a natural Alpine spring (that the hotel derived its name from), sauna world, saltwater grotto, numerous beauty and body treatments, massages and pool area including a terrace jacuzzi.
You can enjoy traditional and international cuisine as well as low calorie dishes in the panoramic restaurant or drinks and music in the X1 CocktailBar.
They even have a boutique with traditional fashion, "Wally's Gwand", which just had its 20th anniversary celebrated with a small fashion show.
8. Hubertus – Alpin Lodge & Spa – Bavaria, Germany
Hubertus is a family-run wellness hotel in Bavaria with modern hotel room design, dining rooms, a vinotheque and "slow food".
There are a few skiing opportunities near the hotel, while the hotel itself offers activities such as Tai Chi, Pilates and Qi Gong.
Visits in the mountain sauna, outdoor swimming pool, beauty and body treatments and activities such as climbing the peak of the Kalkköpfe mountain or swimming in a mountain lake round out the experience.
9. Mohr – Life Resort – Leermoos, Tyrol, Austria
Mohr is an Austrian wellness hotel in Tyrol, with great design (a mixture of traditional Austrian and modern architecture), very good breakfast, Asian-Austrian fusion cuisine, a very beautiful setting and a vast spa program including saunas, indoor and outdoor pools, several massage programs as well as beauty and body treatments.
Highlights are the panoramic view of the Zugspitze and the rooms in the new part of the hotel, as well as the outdoor pool at night. It is both relaxing and romantic.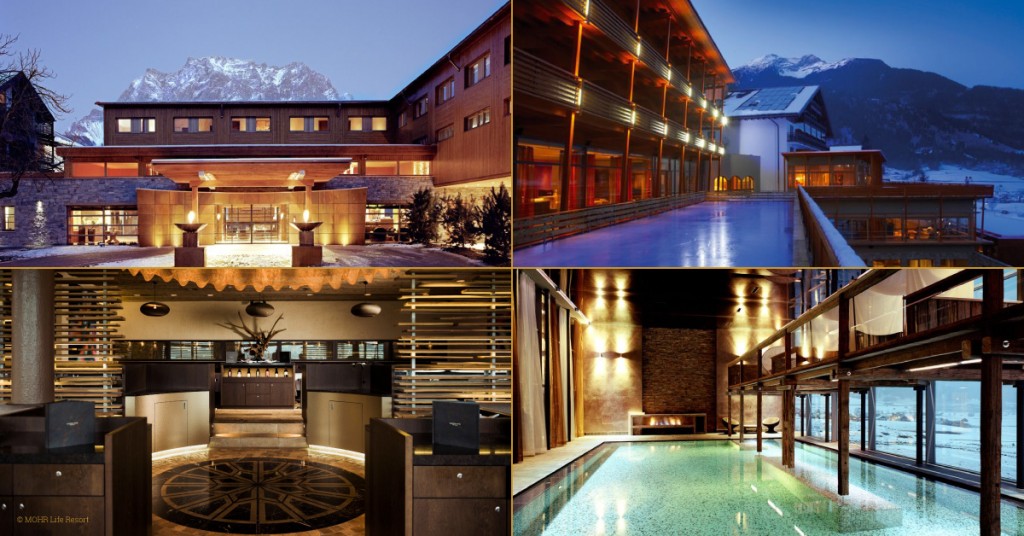 10. Mama Thresl – Leogang, Austria
A new addition to the landscape of high-class wellness hotels is the rather unconventional Mama Thresl, which is rustic alpine and at the same time hip thanks to its modern design and concept and therefore attracts a younger audience that enjoy the funkier flair. The very stylish decor, open kitchen with a mix of a traditional and "urban" menu and lively atmosphere add to the overall experience. For those that are looking for a new kind of chalet it might just be the perfect place.
No matter if you're looking for a skiing trip in winter or mountain holidays in summer, Mama Thresl is absolutely worth a visit!
Their wellness facilities offer panoramic heat in a Finnish sauna (and rock shower), relaxation in the rest coves, a marvellous view of the Austrian Alps in the "empty room" and drinks on the roof top.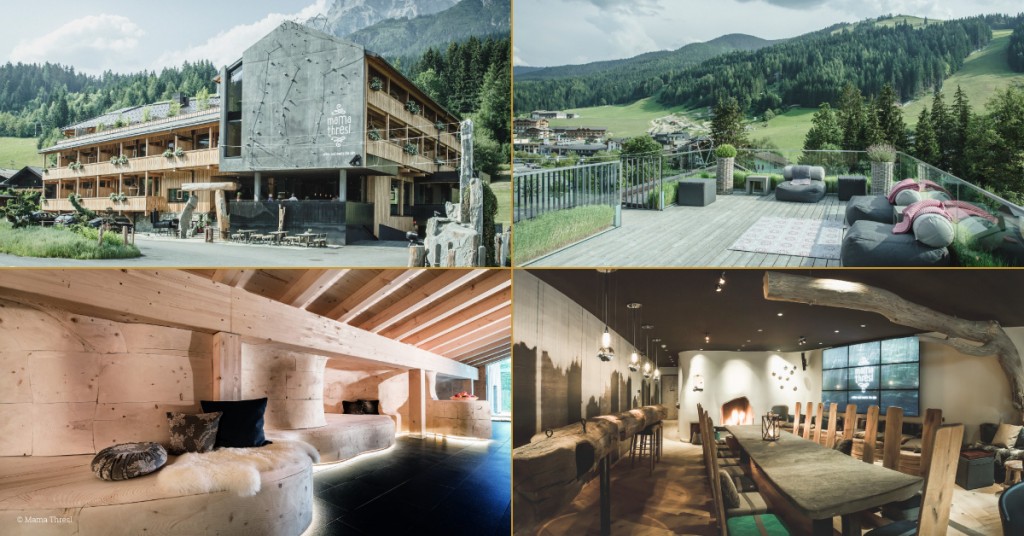 11. Wiesergut – Saalbach-Hinterglemm, Austria
Wiesergut is a modern designhotel, stylistically minimal with interior design decor made by Austrian designers. It offers 7 luxurious garden suites with an open-hearth fire place, a wooden tub on your own terrace, a 4m high glass facade and 17 additional manor suits.
Slow food and traditional Austrian cuisine cooked with garden grown ingredients is served in 3 restaurants. The spa facility offers a pool, massages as well as yoga and pilates activities.
The hideaway hotel is located in walking distance to the cable cars directly at the ski slopes of Saalbach-Hinterglemm.

Click here to view all places on your mobile phone within the myLike app.