Stockholm. The capital of Sweden is a dream destination for many. Unfortunately this dream trip never becomes reality for a lot of people based on the common belief that visiting Stockholm on a budget is simply impossible.
Well, let me tell you one thing – you should book your flight to Stockholm right now because this Nordic beauty makes it easier than you think to visit on a budget!

Getting there safe, sound and on the cheap
As goes for all Scandinavian capitals, they might be expensive to discover but getting there? Not so much.
Stockholm's biggest airport Arlanda is served by 73 airlines, among which you can also find low-cost carriers like Easyjet, Germanwings and Norwegian. Irish Ryanair offers flights to Stockholm's Skavsta Airport, which is situated a bit over an hour from the city centre but looking on the bright side, you get to see the Swedish countryside with all those classic forests, red cabins and moose warning signs from the airport bus!
Getting from the airport to the city centre is cheapest by taking the bus no matter which airport you arrive at. By choosing the slower bus over the faster train, you can save up to 200 SEK! Buy tickets online in advance to get the cheapest price.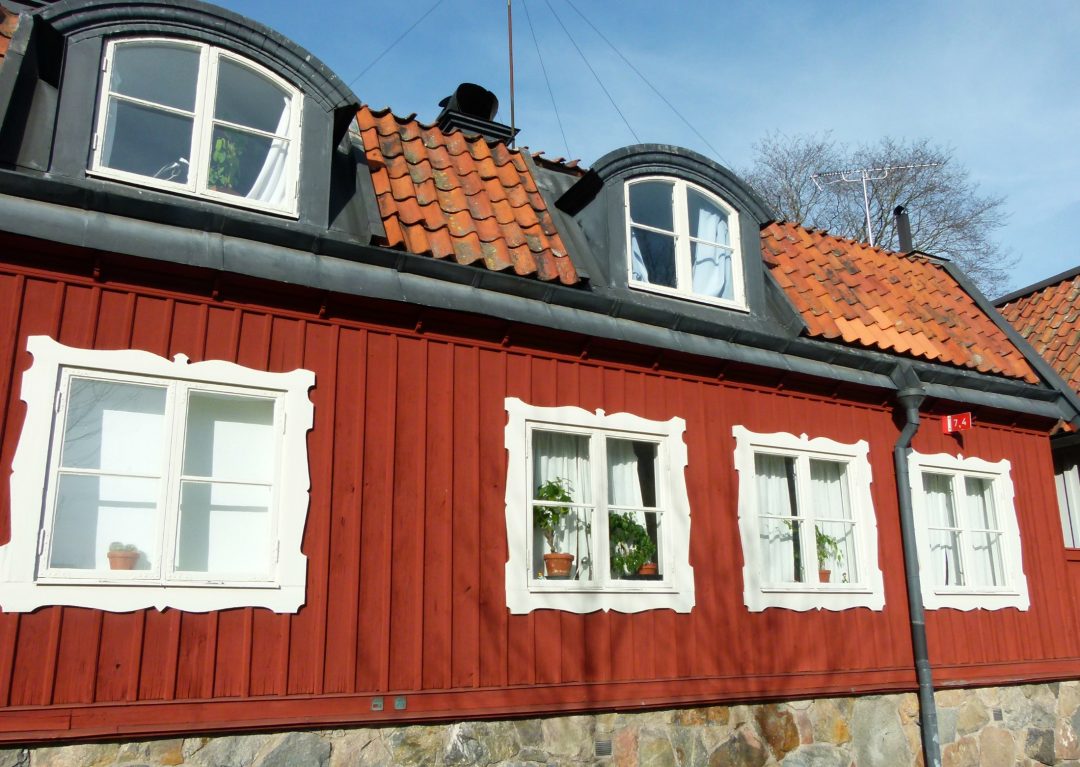 Final tip: Look for flight deals on Skyscanner or Opodo, book a couple of months in advance and don't ignore more expensive airlines. SAS for example gives you a 50% discount on EVERY flight if you're under 26 and a member of their bonus program.
A good night's sleep without breaking your bank account
Hostels in Scandinavia are not like hostels anywhere else. Of course, you will find that one person who has smelly feet, is snoring and/or talking in his sleep in Stockholm too but staying in hostel dorms is way more expensive here than anywhere else with prices between 250 and 500 SEK per night.
Depending on how long you're staying, you therefore might want to look for private accommodation on Airbnb or Couchsurfing. This also gives you the opportunity to prepare your meals yourself rather than having to eat out each day which is a lot of Swedish kroners saved!
Final tip: The further away from the city centre you look for accommodation, the cheaper it gets. However keep in mind transportation costs and commute time too and aim for "something in the middle", literally!
Explore EVERYTHING Stockholm has to offer
Now you're lucky because there are tons of things you can do and see in Stockholm completely for free! Also, it's a very walkable city so that you don't necessarily have to buy a metro card – depending on where you're staying of course.

Sights
My personal highlight of Stockholm is the old town Gamla Stan. The Royal Palace, medieval churches, narrow alleyways and colourful houses on the market square make for a full day's exploration. Luckily, wandering around the alleyways and taking pictures is free and so is also the changing of the guard at the Royal Palace! This happening takes place daily during the summer and if you're really lucky, you might even get to see the Swedish Royals!
Other places you should not miss are Östermalm and Södermalm. Now Östermalm is a pretty expensive area with a lovely boulevard at the waterfront and should be on your itinerary despite the price tag. The one reason why? Östermalm's Saluhall! The food hall of Östermalm is a sight in itself and you could spend half a day in there tasting typical Swedish food like reindeer meat or köttbullar.
Södermalm is the hip area in the south of the city centre where you can find dozens of second hand stores, vintage cinemas, lovely architecture and amazing street food.
Viewpoints
Södermalm is also home to the best viewpoint in town: Skinnarviksberget. It's a popular place for locals to meet and have a barbecue or beer in the evenings and it offers you an amazing view all over town.
Other amazing and free viewpoints include taking the lift Katarinahissen at Slussen or sitting at the waterfront at Evert Taubes Terrass on the island Riddarholmen from which you have an amazing view all over the Mälaren Lake and on to the Town Hall.
Museums
If you're up for some culture, there are lots of museums you can visit for free. The Medieval Museum is one and the Maritime Museum another. You can also learn all about Alfred Nobel and the Nobel Prize at the Nobel Museum which is free to enter on Tuesday evenings. Same goes for the Nordic Museum where you can learn all about Swedish culture, from the Sami people to Swedish design. Admission is free on Wednesday evenings during off-season (September to May).
Swedish cuisine – delicious and cheap
If you cannot prepare your own meals at your accommodation or simply like to treat yourself by eating out, you can find lots of cheap options in Stockholm. The street food scene is big and you cannot leave Stockholm without having tried a typical Swedish hot dog.
If you'd like to eat at a proper restaurant though, go at lunch time as that's when most restaurants offer a cheap lunch menu or meal of the day which comes at around 100 SEK. Another option would be to look out for "after work" buffets in the evenings. At these places you often have access to a simple buffet by ordering nothing more than a beer – but watch out, this is the only time I can actually recommend you to buy alcohol which otherwise is really expensive.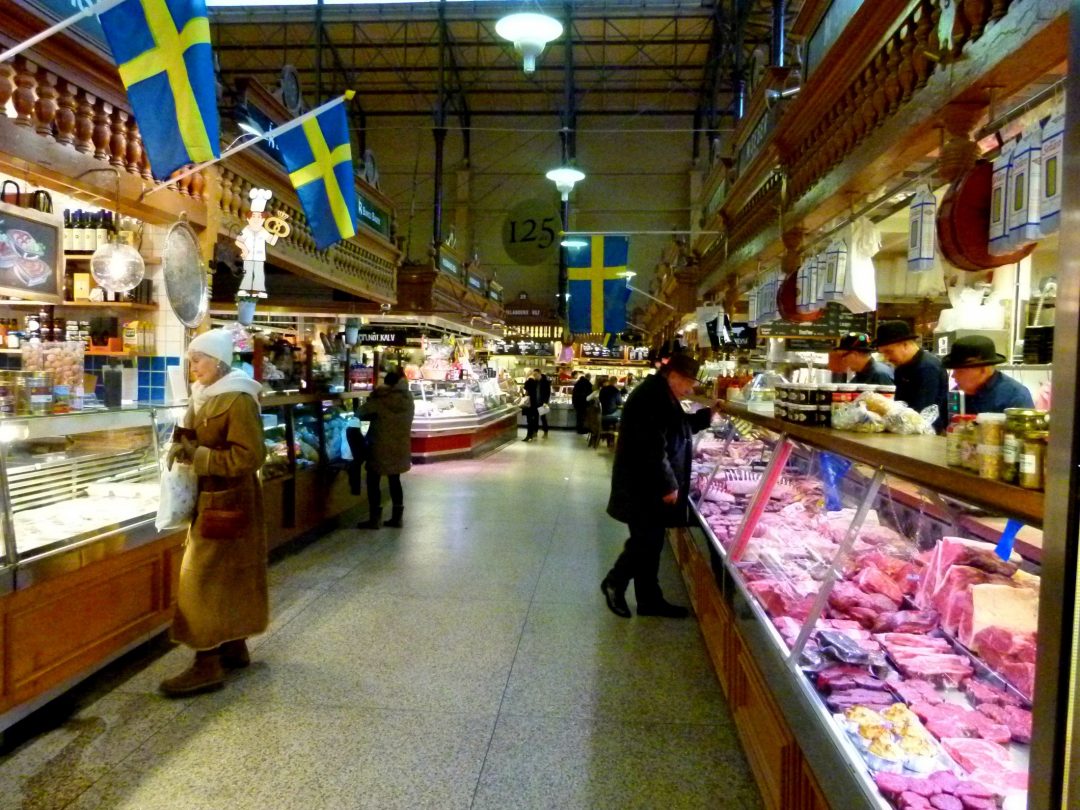 And lastly, there's the food market at Östermalm where you can not only sample but also properly eat on the cheap.
Final tip: Instead of buying a soda to go along with your meal, ask for tap water. It's free, healthy and really tasty!
In a nutshell
Stockholm is certainly one of the most charming cities in Scandinavia and visiting the city doesn't need to be expensive. Look out for flight deals, take the bus to the city and book private accommodation via Airbnb. When it comes to sightseeing, the city is very walkable and there's lots of museums to visit for free; castles, churches and other medieval buildings to admire, and lots of green space to relax and rest your feet. And when you're hungry, there's nothing better than a typical Swedish hot dog!
Access all the places I mentioned on this myLike list and bring it to your own trip to Stockholm on a budget!
Images and text by Vanessa Brune.